This has been floating around the Internet. I saw it on Facebook. I'm sorry, I don't know who originally wrote it but it's a beautiful reflection,
***
This is Shrek the sheep. He became famous several years ago when he was found after hiding out in caves for six years. Of course, during this time his fleece grew without anyone there to shorn (shave) it. When he was finally found and shaved, his fleece weighed an amazing sixty pounds. Most sheep have a fleece weighing just under ten pounds, with the exception usually reaching fifteen pounds, maximum. For six years, Shrek carried six times the regular weight of his fleece. Simply because he was away from his shepherd.
This reminds me of John 10 when Jesus compares Himself to a shepherd, and His followers are His sheep. Maybe it's a stretch, but I think Shrek is much like a person who knows Jesus Christ but has wandered. If we avoid Christ's constant refining of our character, we're going to accumulate extra weight in this world—a weight we don't have to bear.
When Shrek was found, a professional sheep shearer took care of Shrek's fleece in twenty-eight minutes. Shrek's sixty pound fleece was finally removed. All it took was coming home to his shepherd.
I believe Christ can lift the burdens we carry, if only we stop hiding. He can shave off our 'fleece'—that is, our self-imposed burdens brought about by wandering from our Good Shepherd.
"Come to Me, all you who are weary and burdened, and I will give you rest. Take My yoke upon you and learn from Me, for I am gentle and humble in heart, and you will find rest for your souls. For my yoke is easy and my burden is light." Matthew 11:28-30
***
This reflection on Shrek reminds me of the beginning of Tim O'Brien's The Things They Carried: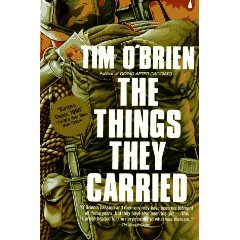 "The things they carried were largely determined by necessity. Among the necessities or near-necessities were P-38 can openers, pocket knives, heat tabs, wristwatches, dog tags, mosquito repellant, chewing gum, candy, cigarettes, salt tablets, packets of Kool-Aid, lighters, matches, sewing kits, Military Payment certificates, C rations, and to or three canteens of water. Together, these items weighed between 15 and 20 pounds, depending upon a man's habits or rate of metabolism.

…What they carried was partly a function of rank, partly of field specialty. As a first lieutenant and platoon leader, Jimmy Cross carried a compass, maps, code books, binoculars, and a .45-caliber pistol that weighed 2.9 pounds fully loaded. He carried a strobe light and the responsibility for the lives of his men.

As an RTO, Mitchell Sanders carried the PRC-25 radio, a killer, 26 pounds with its battery.

As a medic, Rat Kiley carried a canvas satchel filled with morphine and plasma and malaria tablets and surgical tape and comic books and all the things a medic must carry, including M&M's for especially bad wounds, for a total weight of nearly 20 pounds.

As a big man, therefore a machine gunner, Henry Dobbins carried the M-60, which weight 23 pounds unloaded, but which was almost always loaded. In addition, Dobbins carried between 10 and 15 pounds of ammunition draped in belts across his chest and shoulders.

As PFCs or Spec 4s, most of them were common grunts and carried the standard M-16 gas-operated assault rifle. The weapon weighed 7.5 pounds unloaded, 8.2 pounds with its full 20-round magazine. Depending on numerous factors, such as topography and psychology, the riflemen carried anywhere from 12 to 20 magazines, usually in cloth bandoliers, adding on another 8.4 pounds at minimum, 14 pounds at maximum. When it was available, they also carried M-16 maintenance gear– rods and steel brushes and swabs and tubes of LSA oil — all of which weighed about a pound. Among the grunts, some carried the M-79 grenade launcher, 5.9 pounds unloaded, a reasonably light weapon except for the ammunition, which was heavy. A single round weighted 10 ounces. The typical load was 25 rounds.

…In addition to the three standard weapons — the M-60, the M-16, and M-79– they carried whatever presented itself, or whatever seemed appropriate as a means of killing or staying alive."
***
"Come to Me, all you who are weary and burdened, and I will give you rest. Take My yoke upon you and learn from Me, for I am gentle and humble in heart, and you will find rest for your souls. For my yoke is easy and my burden is light." Matthew 11:28-30
***